Index
|
Sales Ledger
|
Purchase Ledger
|
Stock Control
|
Payments
|
Nominal Ledger
|
Reports
|
Configurations
Nominal ledger is the heart of management accounts and business analysis. The company balance sheet and profit & loss accounts are split into
Categories
. These in-turn are further split into
Groups
with each group comprising of a number of
Nominal Code
. Because each financial transaction is associated with a nominal code, all business activity can be summarised into distinct groups and higher categories for purposes of analysis.
Categories
Categories are at the top of the nominal hiarchy and allow the business assets to be grouped into suitably categories and sub-categories to define the company balance sheet. The grouping also allows the business to be analysed in terms of its profit and loss. A typical example of Nominal Categories and sub-categories is listed below:
Balance Sheet

Capital and Reserve
Current Assets

Stock
Debtors
Deposits and Cash
Credit Card (Debtors)
Bank Account
VAT Liability

Current Liabilities

Creditors - Short Term
Taxation
Wages
Credit Card (Creditors)
Bank Account
VAT Liability

Fixed Assets

Property
Plant and Machinery
Office Equipment
Furniture and Fixtures
Motor Vehicles

Long Term Liabilities

Profit & Loss

Direct Expenses

Labour
Commissions
Sales Promotion
Miscellaneous Expenses

Overheads

Gross Wages
Rent and Rates
Hear, Light and Power
Motor Expenses
Travelling and Entertainment
Printing and Stationary
Professional Fees
Equipment Hire and Rental
Maintenance
Bank Charges and Interest
Depreciation
Bad Debt
General Expenses
Suspense and Mispostings

Purchase

Purchases
Purchase Charges
Stock

Sales

Product Sales
Export Sales
Sales of Assets
Credit Charges (Late Payments)
Other Sales
---
Groups
---
Nominal Codes
---
Bank Accounts
---
Audit Trail
Click on Image to view bigger version of the image.
---
View Journals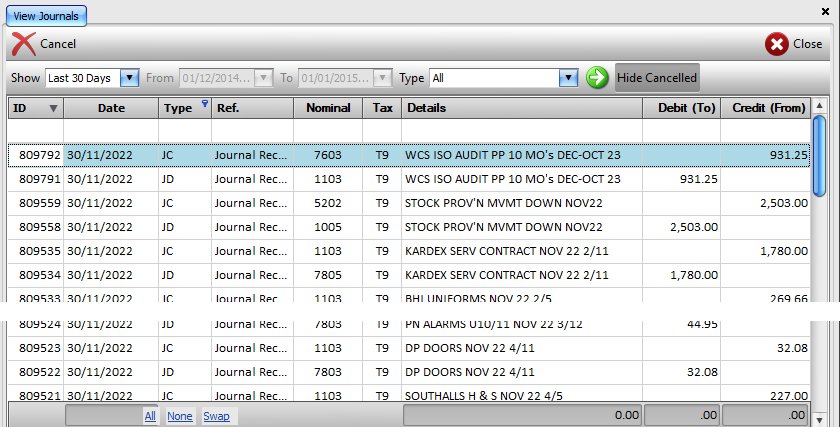 ---
Journal Entries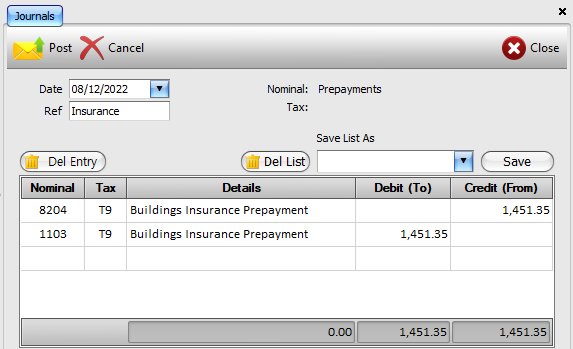 ---
Cancel Journals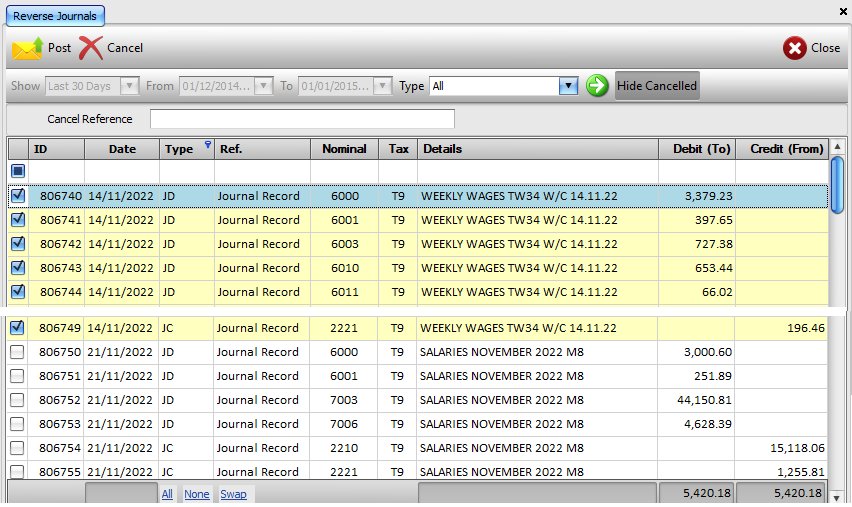 ---
Cancel Transactions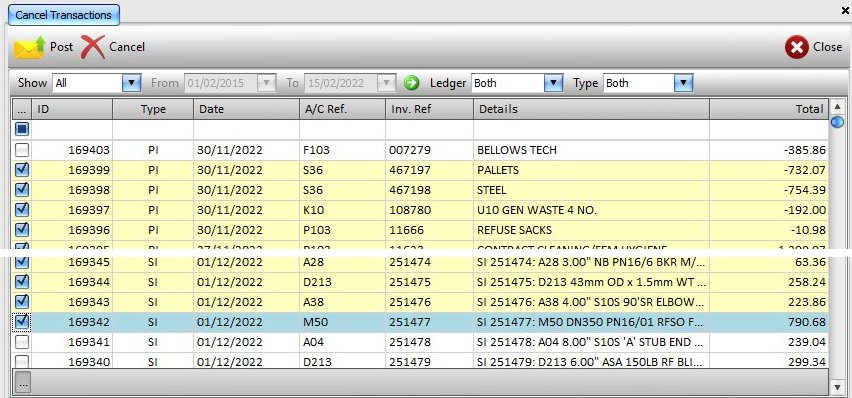 ---
Bank Transfers

---
Bank Reconciliation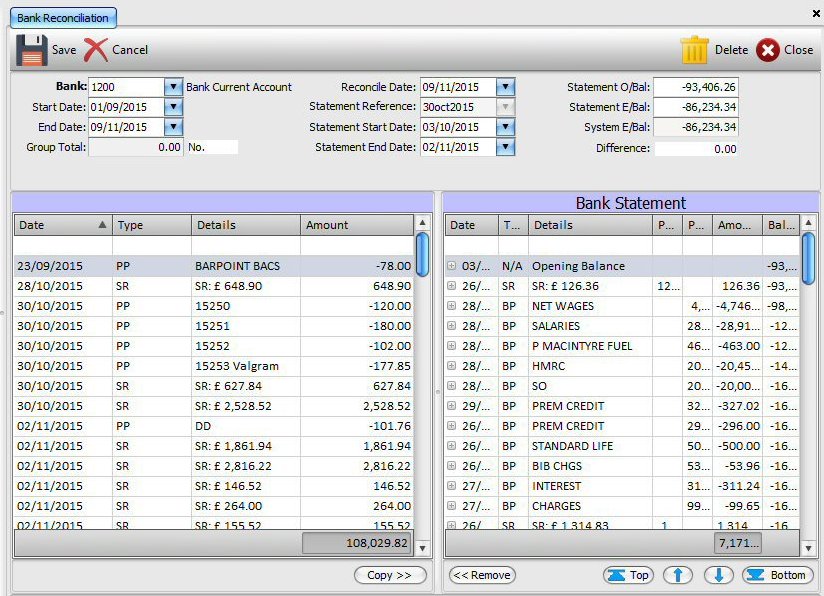 ---
VAT Return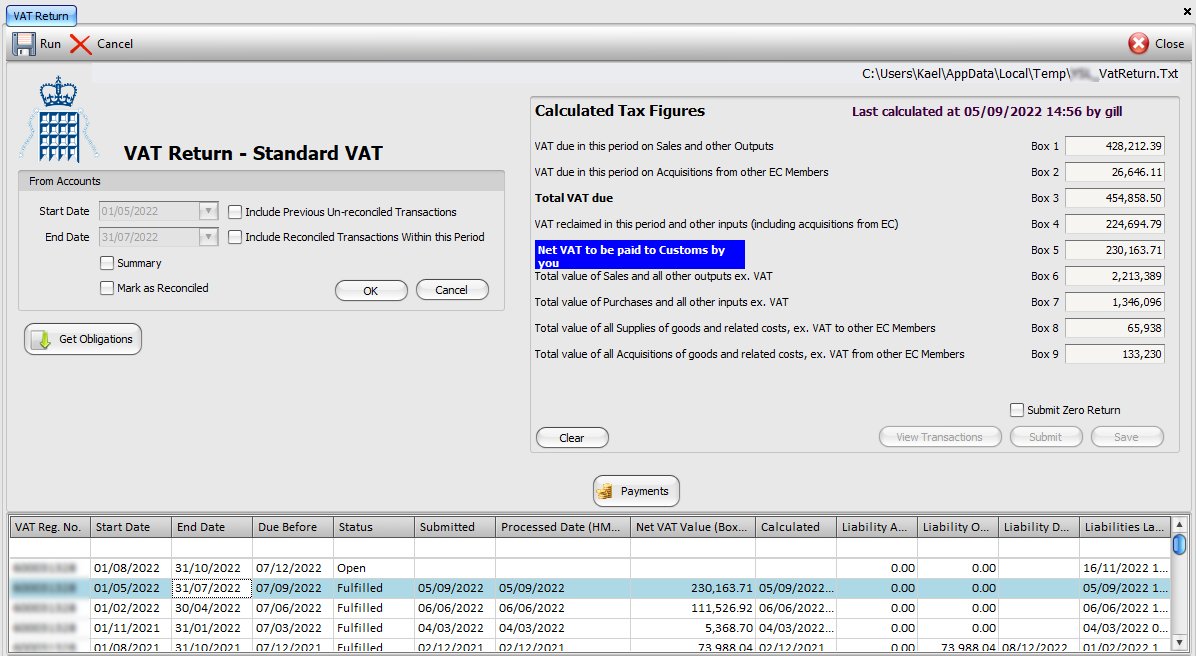 ---
Index
|
Sales Ledger
|
Purchase Ledger
|
Stock Control
|
Payments
|
Nominal Ledger
|
Reports
|
Configurations